2023 Adams County Fair Queen, Tymberlynn Rose Weidemann
Tymberlynn Rose weidemann, is the 19-year-old daughter of Jayleen and Willie Weidemann. A proud Colorado native, Rose grew up in Brighton, Colorado where she engaged in many activities including FFA, 4-h, yearbook, and link. She  graduated  from Brighton high school in 2022 and is furthering her education at Colorado State University for her undergraduate. She is  majoring in Agricultural Education along with a minor in Agricultural Literacy.

The fair holds many wonderful adventures and memories for her. She is delighted to promote the fair and activities it holds. She hopes you will open the doors and join her and Elsie in the adventures August 2-6.
2023 Adams County Fair Lady-in-Waiting, Elsie Oswald
Elsie Oswald is the 18-year-old daughter of Paige and Chris Oswald. Elsie is a senior currently attending Brighton High School, where she is a Link Leader and President of the Brighton FFA chapter. Elsie has been in 4H for ten years and is President of the Pure Country 4H club. After graduating from Brighton High School this year, she will continue her education at Colorado State University, majoring in Agricultural Business in pursuit of going to a chiropractic college to work on people and horses.

This is Elsie's tenth year attending the fair, and she is thrilled to share the joy of the Adams County Fair with you. She is excited to promote the Fair and the 4H exhibitors, livestock, rides, food, and other activities that make the Adams County Fair great. She hopes you will join her and Rose at the Adams County Fair, the largest county fair in Colorado, this year from Aug. 2-6, 2023.
Sponsors
Rose and Elsie are proudly sponsored by:
Constance Photography

Cox Ranch Originals

Greeley Hatworks

Rocky Mountain Clothing Company

Thollot Diamonds & Fine Jewlery

United Power
Royalty Program Clinic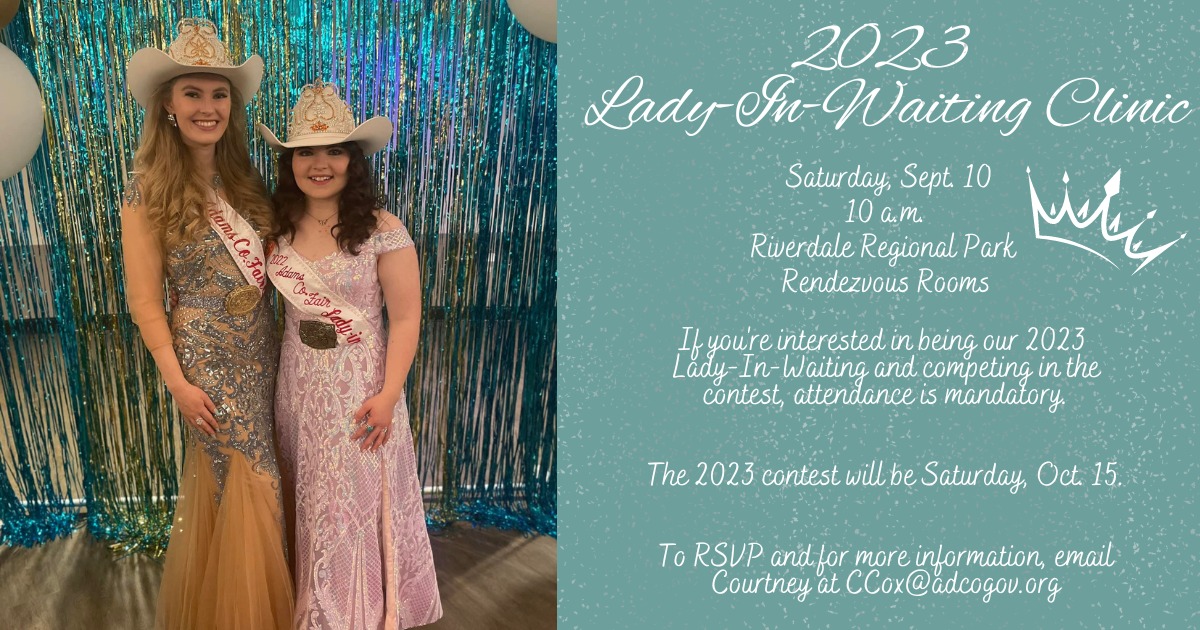 Past Fair Royalty
1950s | 1960s | 1970s | 1980s | 1990s | 2000s | 2010s | 2020s
1950 Chloe Plass Weidenbach
1951 Gretchen Gilbert Wilson
1952 Betty Williams
1953 Yulene Banek
1954 Carma Jesiop Hale
1955 Ella Masters
1956 Sandy Crosby Davidson
1957 Bonnie Aschenbrenner Kanouse
1958 Revae Milligan - Miss Rodeo Colorado 1958
1959 Diane Newell
1960 Phillis Guthrie Webb
1961 Rosemary "Cookie" Larson - Miss Rodeo Colorado 1961 
1962 Sandy Schwab Purdy
1963 Pat Strole
1964 Annette Carrvin Bowers
1965 Teri Reither Watson
1966 Janice Schwabb Miles
1967 Paula Klaumann Jones
1968 Georgia Dowd Haller
1969 Marilynne "Lynne" Hokr Redman
1970s
1970 Jodi Russell Pfersh
1971 Janet Snidow Jackson
1972 Linda Carter Larson
1973 Marla Myers Zuch
1974 Nancy Coufal Elrod
1975 Barbara Seitz Williams - Miss Rodeo Colorado 1978
1976 Pam Armstrong Whitlock
1977 Teri Bohlander Griffith Parkos
1978 Debbie Pech Ritch - Miss Rodeo Colorado 1979
1979 Jeri Cooper Hass
1980s
1980 Nancy Nott Bunjes - also the mother of the 2006 Queen
1981 Susan Berger Farner
1982 Margaret Keehn
1983 Penny Constable Anderson
1984 Sandie Chaney
1985 Duetta Allart
1988 Kelly Field
1989 Kim Kling Daley
1990s
1990 Heidi Carmack
1991 Colette Wilbanks Stoudt
1992 Tara Rumsey Weber
1993 Kelli Mohan Metz
1994 Sara Ocker
1995 Jodi Miller Stonner
2000s
2002 Amanda Milton
2003 Stacie Toft
2004 Bronwyn Schindler
2005 Alyse Scebbi Fieldgrove
2006 Alyssa Bunjes Baker - the daughter of the 1980 queen
2007 Chelyn Heideman Hart
2008 Sadie Sayler Nelson
2009 Randi Rae Fishler
2010s
2010 Sydnie Rask
2011 Courtney Cox
2012 Danielle McCormick
2013 Alexandra Nelms Holyoak
2014 Savanna Hamilton
2015 Lindsey Irby Bakes
2016 Aviendha Anemaet
2017 Jennifer Ann D'Epagnier
2018 Lindsey Burleson
2019 Racheal Lampo
2020s