United Power Grandstand
Purchase tickets online at adamscountyfair.com. Print at home or download to mobile device. Children two years old or younger are free with paying adult at all events.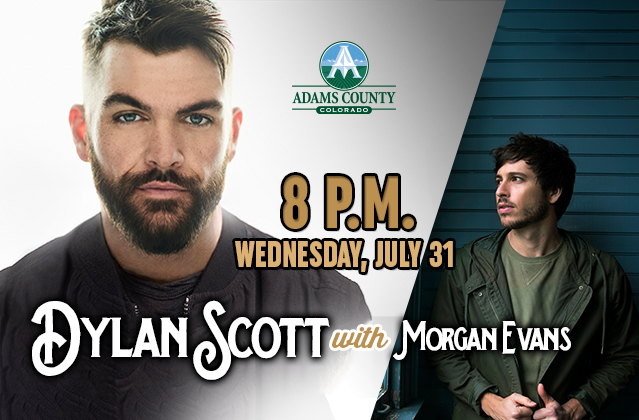 Dylan Scott with Morgan Evans
Doors open at 7 p.m., concert begins at 8 p.m.
Free with downloaded ticket
Presented by Adams County
Vendor Hours
Indoor: 6-9 p.m.
Outdoor: 6-11 p.m.
Carnival Hours
6-11 p.m. - Unlimited Carnival Armbands $20
Budweiser Entertainment Stage
| | |
| --- | --- |
| 4-5 p.m. | Joshua Seth |
| 5- 6 p.m. | DJ |
| 6- 7 p.m. | Joshua Seth |
| 7-8 p.m. | DJ |
| 9-11 p.m. | Karaoke |
Ground Attractions and Exhibits
| | |
| --- | --- |
| 4-5 p.m. | All About Science |
| 4-5 p.m. | Dubois Circus |
| 5-6 p.m. | Pedal Tractors |
| 6-7 p.m. | The Cutest Show |
| 6-7 p.m. | Dubois Circus |
| 7-8 p.m. | All About Science |
| 8-9 p.m. | Pedal Tractors |
| 9-10 p.m. | The Cutest Show |
Agriland presented by Anadarko
4-H & Open Class Schedule
| | |
| --- | --- |
| 9 a.m. | Dairy Goat Show |
| 9 a.m. | Open Mini Dress a Goat |
| 9 a.m. | Open Mini Rabbit Show |
| 9:30 am. | Rabbit Shows |
| 10 a.m. | Fiber Goat Show |
| 11 a.m. | Pygmy Goat Show |
| 12 p.m. | Cart and Pack Goat Show |
| 1 p.m. | Goat Dress Up |
| 2 p.m. | Cavy Show |
| 3 p.m. | Open Mini Cavy Show |
| 4 pm. | Open Mini Swine Show |
| 5 p.m. | Swine Showmanship |
| 7 p.m. | Swine Breeding and Producer Class |